21 Oct 2021
Build-to-Rent sector is critical to achieving Government housing targets in core UK cities
New analysis shows over 80% of build-to-rent homes are in 20 cities where Government has increased housing targets


Analysis published today by the British Property Federation (BPF) shows that over 80% of UK build-to-rent homes are in the 20 cities identified by Government for additional housing growth, underlining the critical role that high-quality homes built for renters will play in achieving national housing targets.
The quarterly research, which is undertaken in partnership with Savills, shows that at the end of Q3 the build-to-rent sector comprised 205,525 homes completed or in the pipeline, a 14% increase year-on-year. The vast majority of homes, 81%, are located in the 20 cities where Government has increased housing targets by 35%, including London, Birmingham, Liverpool, Bristol and Manchester.
A total of 63,950 build-to-rent homes have now been completed across the UK, with over a quarter of these completed in the past twelve months, and 87% delivered in priority cities.
The analysis also shows there are 141,575 build-to-rent homes under construction or in planning at the end of the third quarter, representing a 9% increase year-on-year. The vast majority of the build-to-rent pipeline, 79%, is concentrated in those cities where housing need is most acute.
Over the past three years (to Q2 2021) build-to-rent has become increasingly important to overall housing delivery in these key cities.  In Manchester over a third (34%) of new homes completed over that period were purpose-built for renters, with the sector accounting for almost a quarter (24%) of new homes delivered in Liverpool, and more than 15% of new supply in Nottingham, Leicester and Sheffield.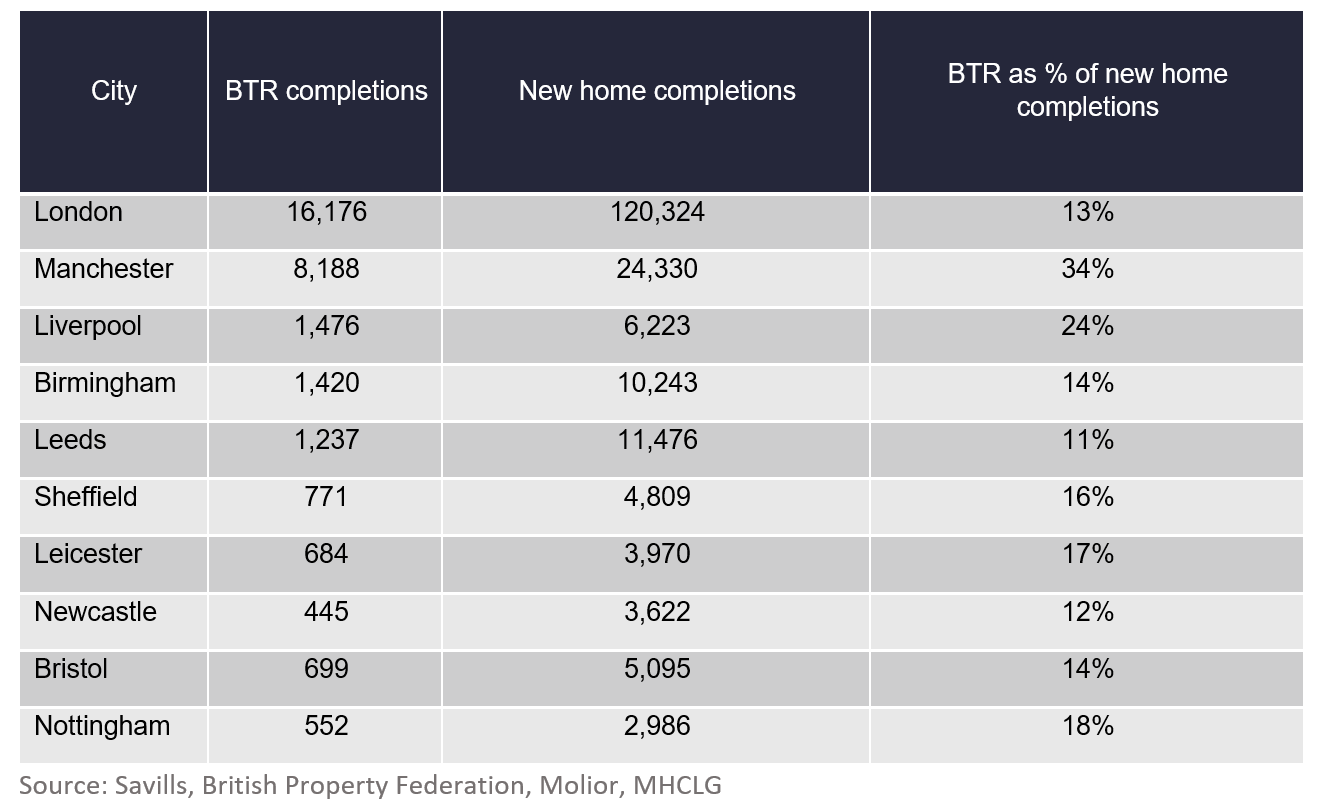 Ian Fletcher, Director of Real Estate Policy, British Property Federation comments:
"The build-to-rent sector continues to grow at pace, and this analysis highlights for the first time the critical role it will play in achieving new national housing targets.
"There is currently a record 141,000 homes under construction or in planning, with the vast majority concentrated in those core cities where the Government has increased housing targets. This shows a real alignment between public and private sectors, with Government and build-to-rent developers and investors both focused on those urban brownfield areas where population increase is set to outpace the national average, and there is a need to attract and retain talent to drive economic growth.
"In London, Manchester and Liverpool in particular build-to-rent is maturing rapidly, but there is significant untapped potential across other target regional cities. The challenge ahead is to ensure we have a diverse and dynamic housing sector across the UK to meet demand and support the Government's broader objective of 'levelling up'."
Jacqui Daly, Director, Residential Research, Savills added:
"It's difficult to overstate the importance of build-to-rent in delivering new homes in key employment hubs, particularly as private housebuilding adjusts to the end of Help to Buy.  It is the only market segment we expect to expand appreciably over the next five years, anticipating we'll see at least 30,000 new build to rent homes completed a year by 2025, representing a tenth of the Government's target." 
The research is the first time the BPF has examined in detail how the growth of the build-to-rent sector will support the delivery of national housing targets. It follows the decision in December 2020 by Government to review its approach to housing allocation, opting to increase targets by 35% in 20 cities selected based on 2014 population forecasts. The cities identified for additional housing growth are London, Birmingham, Liverpool, Bristol, Manchester, Sheffield, Leeds, Leicester, Coventry, Bradford, Nottingham, Kingston upon Hull, Newcastle upon Tyne, Stoke-on-Trent, Southampton, Plymouth, Derby, Reading, Wolverhampton, and Brighton and Hove.