Welcome to the BPF Net Zero Knowledge Hub. Here you'll find our latest resources on net zero and sustainability, including all our Net Zero Insights articles, recent webinars, information on training and events and links to useful resources elsewhere.
Net Zero Insights
Check out our expanding series of net zero insights from BPF members. From sector specific approaches to delivering net zero, to helpful explainers on technical and topical issues, there's something for everyone looking for inspiration and help.
Research and policy engagement
Here you can find our latest research into the challenges the sector faces in the transition to net zero, as well as links to recent policy reports and responses to Government consultations. You can search the BPF website for relevant content here.
Featured Research
Towards Net Zero: Accelerating the property sector's transition to net zero carbon
With buildings accounting for around 25% of all UK greenhouse gas emissions, the property sector has a critical role to play in helping the country decarbonise and delivering net zero by 2050. In 2023, we conducted research to identify the main challenges facing the sector in the transition to net zero and to develop a series of policy recommendations to help speed up the decarbonisation of our buildings and create the sustainable communities of the future.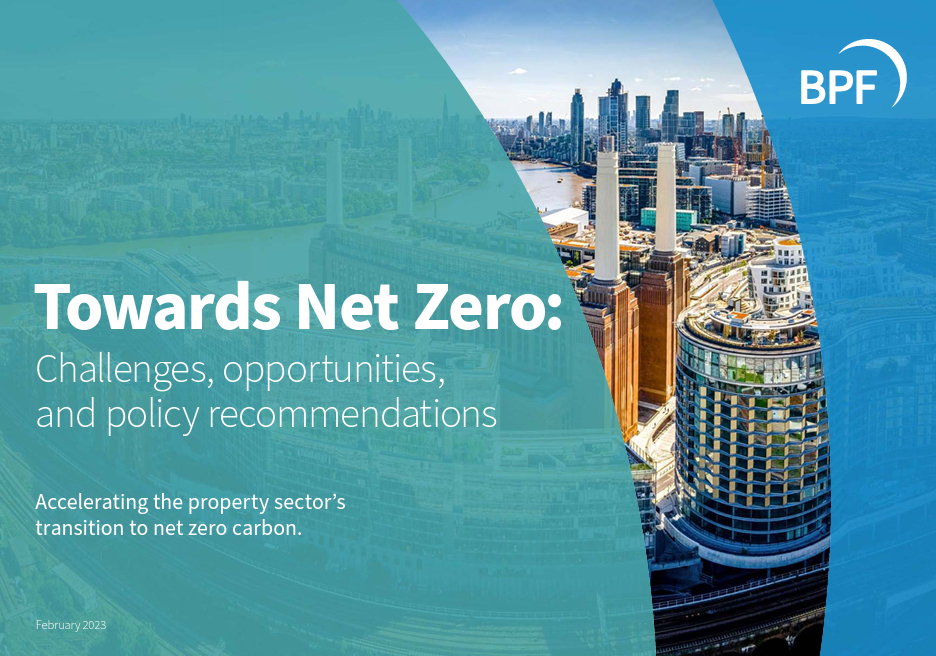 Our latest webinars
Hear valuable insights from industry experts in the recordings of our most recent webinars below, or visit our YouTube channel for even more content!
Net Zero Carbon Plans | We know that many BPF members, and others across the property industry, are developing their own net zero carbon targets and plans, but getting started can be difficult. This webinar provides further advice and insight for all BPF members and for others in the sector.
Can UK Real Estate Rise to the Net Zero Challenge? | Hear from leading industry professionals on how the sector is responding to the net zero challenge and what more policymakers, property owners and investors need to do if the sector is to deliver its net zero ambitions.
Towards Net Zero: Challenges, Opportunities and Policy Recommendations | We conducted research to understand better the barriers and challenges faced by the property sector in the transition to net zero carbon, and to explore solutions. Hear more about the research and our policy recommendations.
Is Real Estate Finance Going Green? | Green finance has grown massively in recent years. In fact, some research suggests that global green financing has grown over 100 times in the past decade! But what exactly is green finance, and how does it work in the real estate sector?
Training and events
We are planning an extensive programme of training and events in 2023/24. Visit our events page for more details.