08 Feb 2021
UK build-to-rent housing supply grows in 2020 despite Covid-19
The number of completed build-to-rent homes increases by 23% in 2020; 26% in London and 20% in the regions


Build-to-rent supplies around a fifth of all new housing completions in London


Scotland, Wales, Northern Ireland and every region in England record positive growth in the past year, but future growth could be subdued in London


Suburban build-to-rent grows, reflecting demand for new rental housing with more space further from city centres
Research published today by the British Property Federation (BPF) shows that the number of completed build-to-rent homes – new, high-quality and professionally-managed homes built for renters – increased by 23% in 2020, signalling the sector's resilience during the Covid-19 pandemic.
To aid transparency on the sector and its growth, the research has been produced by Savills, commissioned by the BPF, and draws on Glenigan's planning database and Molior in London. It is published quarterly as an interactive map on the BPF's website.


Table 1: Total number of build-to-rent homes recorded at the end of Q4 2020 vs Q4 2019 (UK)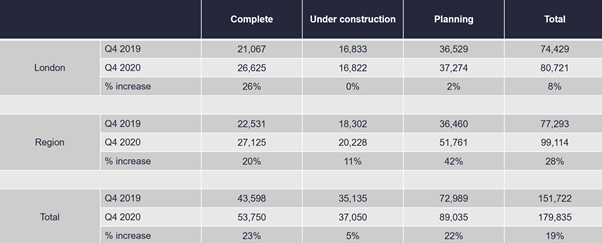 When looking at government EPC data on total quarterly housing completions for England and Wales, build-to-rent delivered 4% of all new homes, and around a fifth of all new homes in London, in the final quarter of 2020.
The sector continues to accelerate new housing supply outside of London, outstripping the capital in both current and future supply. Every region of the UK recorded positive growth in future supply, with the planning pipeline in Northern Ireland increasing the most significantly. The East of England and Scotland ranked second and third, respectively.
With 32,395 build-to-rent homes – complete, under construction or in planning – the North West still boasts the largest number of build-to-rent homes outside of London.
Drops in the number of build-to-rent homes under construction in the North East (-38%), North West (-23%) and South West (-19%) are positively backed by significant increases in the number of homes in planning, suggesting a healthy future pipeline for the sector in these regions.
Equally, a drop in the number of homes in planning in the South East (-24%) is positively supported by an increase of 118% in the number under construction, demonstrating that developments are successfully getting through the planning system.
With no uplift in the number of build-to-rent homes under construction in London, and only a 2% rise in the number in planning, the capital's future growth will remain subdued.


Table 2: A regional breakdown of total number of build-to-rent homes recorded at the end of Q4 2020 vs Q4 2019 (UK)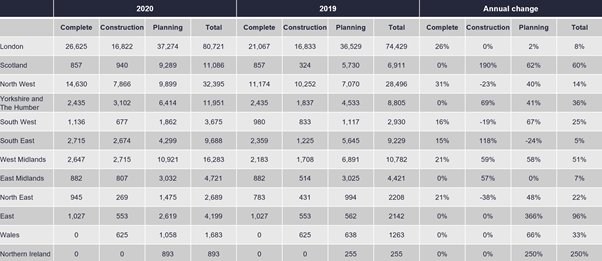 Across the UK, there are now around 5,000 completed build-to-rent homes located in suburban areas, 10% of all completed build-to-rent homes. This reflects increasing demand for high-quality rental homes that provide more space and retain good access to city centre locations.
This model – currently found in locations such as Crawley, Wigan and Wakefield – comprises mostly houses, unlike the build-to-rent apartments in city centre locations.
Suburban build-to-rent has been gaining momentum over the last few years and with a further 3,200 homes under construction and 5,400 in planning, this looks set to continue throughout 2021.


Ian Fletcher, Director of Real Estate Policy, British Property Federation comments:
"The build-to-rent sector has shown its resilience throughout 2020, with investors continuing to drive the sector's growth across every region of the UK. The quantum of planning applications in London, however, is static – suggesting that the capital is having to compete more for investment.
"Throughout 2020, around one in five homes completed in London have been build-to-rent – in the regions this share is lower, despite the volume of build-to-rent homes in the regions now surpassing London. There remains a significant opportunity for the sector to increase its share of completions in our regional cities and towns, further supporting local housing supply ambitions, and this will include more suburban houses that families can call home.  
"As we continue to spend more time than ever before in our homes, the pandemic has brought into sharper focus the need for high-quality housing and a solution to our country's housing supply-demand imbalance. Every housing sector will need to be firing on all cylinders, but it is hugely positive to see the UK's rental market become increasingly professional, giving more choice to customers who either choose or need to rent."


Jacqui Daly, Director, Savills residential research adds:
"We saw investment and interest in the build-to-rent market continue in 2020 despite the lockdowns. Suburban build-to-rent has had a particularly strong year, proving very popular with customers. Investors have reported high reservations, with demand driven by customers looking for more space for family and work as a direct result of the experience of lockdown.
"Our analysis has identified a pipeline of 8,500 suburban homes in planning and under construction that will help meet this demand for rental homes in locations that can combine more space, good amenities and connectivity. We expect suburban schemes to play a key role in delivering homes in 2021 and in providing high-quality rental housing in regional markets, helping to address housing need, particularly for young families."