24 May 2021
Green light for record-breaking number of new build-to-rent homes
Nearly 7,000 new build-to-rent homes gained full planning permission in the first quarter of 2021 – the highest of any quarter on record
Growth soars for suburban build-to-rent, reflecting demand for new rental housing with more space further from city centres


Research published today by the British Property Federation (BPF) shows that 6,937 new build-to-rent homes – high-quality and professionally-managed homes built for renters – gained full planning permission in the first three months of 2021.
This is the highest number of planning consents recorded for any quarter in the sector's history. With 6,321 consents, the third quarter of 2016 follows in second place.  
To aid transparency on the sector and its growth, the research has been produced by Savills, commissioned by the BPF, and draws on Glenigan's planning database and Molior in London. It is published quarterly as an interactive map on the BPF's website.
Table 1: Total number of build-to-rent homes granted full planning permission by quarter (UK)

The build-to-rent sector continues to grow at pace – with a total of 188,456 homes now complete, under construction or in planning across the UK. This is a 21% increase over the course of the past 12 months.
With a 29% increase, bringing the total of build-to-rent homes in the regions to 105,277, the sector continues to accelerate new housing supply outside of London – outstripping the capital in both current and future supply. London's total is falling further behind, standing today at 82,374 build-to-rent homes.
Table 2: Total number of build-to-rent homes recorded at the end of Q1 2021 vs Q1 2020 (UK)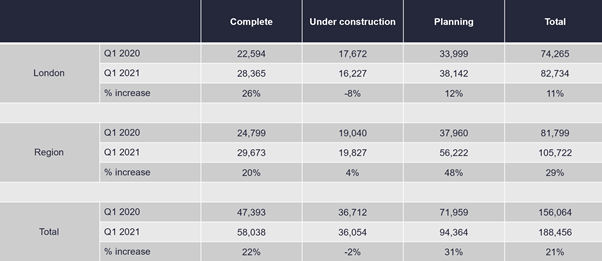 Across the UK, there are now over 5,000 completed build-to-rent homes located in suburban areas, 10% of all completed build-to-rent homes. This reflects increasing demand for high-quality rental homes that provide more space and retain good access to city centre locations.
This model – currently found in locations such as Crawley, Wigan and Wakefield – comprises mostly houses, unlike the build-to-rent apartments in city centre locations.
Suburban build-to-rent has been gaining momentum over the last few years and with a further 3,449 homes under construction and 5,296 in planning, this looks set to continue throughout 2021.
Table 3: The breakdown of urban and suburban build-to-rent homes recorded at the end of Q1 2021 (UK)


Ian Fletcher, Director of Real Estate Policy, British Property Federation comments:
"While the UK faced significant challenges at the beginning of this year, having gone back into lockdown at the end of December, the build-to-rent sector has remained resilient – supporting the economy, new construction, jobs, its customers and local communities.
"Not only has the sector continued to build much-needed high quality rental homes across the UK, but it is also diversifying – with plans to deliver more homes in suburban areas than ever before. It is hugely positive to see the sector offering more choice to customers who either choose or need to rent.
"As this quarter's statistics show, planning permissions were at record levels despite current conditions. Local authorities have been able to hold planning meetings online, which has in large part supported this success. As of 6 May, however, local authorities can no longer hold these meetings remotely, unfortunately. I hope the Government considers the valuable lessons learned from having to operate the planning process remotely, and will seek to legislate to allow some of the positive outcomes from remote participation to continue in the future."
Jacqui Daly, Director, Savills residential research adds:
"These figures are clear demonstration of some of the factors we will see driving UK build-to-rent expansion over the coming year, whether from an investment, delivery or occupier perspective. 
"The suburban build-to-rent model is one we expect to see grow strongly over coming years.  A desire for more space, and for life in smaller communities, with local services close by, is likely to be a lasting legacy of Covid-19. That's particularly true for families, pointing to rising demand for family homes in well-connected suburbs, that offer longer tenancies. 
"At the same time, we are now seeing clear evidence of demand returning to major cities as people plan for a return to a more regular presence in the office, and this will underpin growth of the sector in these key employment centres traditionally undersupplied of private rented stock. 
"More broadly, regional markets have already overtaken London in terms of the number of build-to-rent homes built or in progress, making the sector well-placed to dovetail the Government's levelling-up agenda that looks set to be a major focus of the next parliament.   These are exciting times for UK build-to-rent."